Trade shows are fertile grounds for lead generation and offer a thriving environment of networking and relationship-building. All the industry insiders and entrepreneurs converge here to showcase what they've got, forge partnerships, and exchange ideas.  
Trade shows involve significant investment; to justify it, it only makes sense to measure the ROI.  Instead of scrambling manually, invest in a trade show lead capture app to collect and manage lead data. With the help of the right trade show lead capture app, you can save time and get data-driven insights to measure returns and alter future strategies accordingly. 
Best Trade Show Lead Capture Apps 
The selection of the right lead capture app that aligns with your unique needs and objectives can highly influence the success of a trade show. It can be daunting to find the perfect fit with a plethora of options available offering tons of features.
Here we have listed the best trade show lead capture apps and discussed their features to help you with your decision: 
1. vFairs Lead Capture App
vFairs is an award-winning event management platform that offers tools for the smooth sailing of trade shows and other virtual, hybrid, and in-person events.
Central to vFairs' arsenal of event management is its trade show lead capture app. It empowers organizers to collect, manage, and harness the full potential of lead data for post-event success. This trade show lead generation app equips exhibitors with the tools to capture leads in multiple ways and empower them to measure ROI with event analytics. They can also add context to each lead, ensuring that the connections made at the event are meaningful and actionable. Let's talk about some of the main features: 
Create an Event and Invite Exhibitors
You can use the vFairs lead capture app to set up your trade show and send invite links to exhibitors and sponsors via email. They will later accept the invite and log in to the app with their own credentials. Now they can start capturing leads at the trade show. 
Effortless Exhibitor Lead Capture
With the vFairs trade show lead capture app, exhibitors and sponsors can say goodbye to manual work. This app enables you to scan attendee badges, QR codes, and physical business cards swiftly and accurately. All the attendee data will be saved and you will be able to use this data for future analysis. 
There are three methods to add lead information in the vFairs trade show lead capture app:
Scan a QR code from attendee badges or their vFairs

event mobile app

to add their information as a potential lead.

Scan an attendee's business card and the lead retrieval app will read the text from the photo and save the information. 

You can manually type the details in and add a lead into the app. 
Add Context to Your Leads
You can categorize leads by adding tags or ratings for organized data. You can mark each lead as cold, warm, hot, or urgent. It allows you to add notes to each lead from your conversations, making follow-up interactions more personal and engaging. 
Enable Exhibitors to Work in Teams 
Since trade shows are the epicenter of lead generation, it needs more than one person to compile all the data. Exhibitors can invite sales representatives, or team members to join their accounts within the vFairs lead capture app. Working together as a team, they can categorize leads, prioritize follow-up, and ensure no valuable connection is left unattended.
Filter Search to View Leads 
The filter search feature of the vFairs trade show lead capture app empowers you to view and manage your leads with precision and ease. It acts as a central repository to organize the lead data. You can input a specific keyword that can be a name, tag, or category to display all relevant results.
Sync Lead Data
vFairs seamlessly synchronizes the lead capture app to your vFairs event app or the virtual event platform. Once you sync your data across all platforms, you can easily import it to a CRM or Martech solution of your choice. This way you get to save time spent on uploading all the data manually thus removing human errors and inefficiencies. 
Real-time Reporting and Analytics
vFairs trade show lead capture app offers visual reports and dashboards to provide a clear and concise overview of the lead data. You get to spot trends and patterns at a glance and gauge the event's ROI. 
These event-based analytics help you measure scan counts and leads captured per exhibitor and sponsor at the event through visual reporting data. It helps you evaluate their individual contributions to the event's success. Armed with this data, you can optimize resource allocation and make data-driven decisions in the future. 
Pros and Cons
Pros
"A lead retrieval system on the mobile app was a fantastic benefit, as it eliminated the need for an additional app for our event attendees to download. The various features made available by vFairs allowed for a very user-friendly experience."
"This platform has also been a great lead generation campaign for our partners who chose to have a virtual presence."
"[vFairs] helped to strengthen our lead generation strategy, not merely during the conference, but also afterward with post-event engagements and promotions. Additionally, the comprehensive reporting and responsible data-capturing mechanisms were a plus!"
Cons
"The only downside is… some of the language used which is more appropriate for trade shows as opposed to universities."
2. Cvent LeadCapture
The Cvent LeadCapture app allows your exhibitors and sponsors to gather all the leads at a trade show in one application. It helps exhibitors build relationships with attendees and engage with them. They can track who they met and later follow up using the Cvent lead capture app. However, the solution is on the pricier side and not suitable for single exhibitors or small events. Let's take a look at some of the features: 
Real-time Lead Qualification
The Cvent lead capture app can be used to assess leads in real-time. Exhibitors and sponsors can scan business cards or name badges to capture leads at trade shows and qualify them on the spot. During this custom qualification process, they can prioritize leads to make post-event follow-ups more meaningful.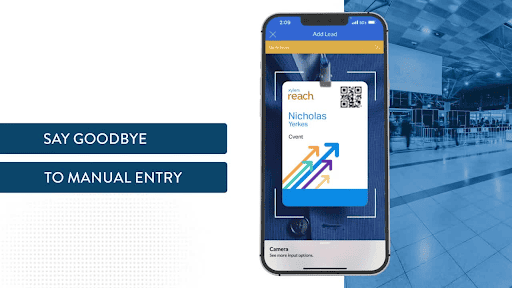 Export Leads 
With the Cvent LeadCapture app, exhibitors can export leads on demand to save time and eliminate the risk of error. All the data can be transferred to CRMs. The app also offers protected data privacy so that data is not misused. 
Track Performance
Exhibitors can track the number of leads captured during the event. With the reporting capabilities of the app, exhibitors can check lead quality metrics and other KPIs to evaluate the impact of their event participation. 
Pros and Cons 
Pros
"Easy to use, intuitive, great to keep track of things at conferences, easy to pull up and review data later at the office."
"We enjoy going to events and getting as many leads to come back to our Lab to have potential new clients."
Cons
"This was a pricey solution for what it is. Not as well integrated with the other Cvent applications as I would have hoped"
"There are many glitches with the platform. Once, I was using a whole registree list but part of the list was unavailable from one day to another making it very hard to perform my job the next day."
3. Whova 
The trade show lead capture app by Whova is designed to help organizers and exhibitors collect all the lead data in one place at trade shows. This allows them to manage and organize leads and connect with them after the event. However, G2 users find limits in lead capture for events that are not uploaded to the Whova platform. 
Here are some features of the Whova trade show lead capture app: 
Collect Leads in One Place
There are two methods of collecting leads at trade shows with the Whova lead capture app. One is by scanning the QR codes of each attendee and collecting their data in one place and the other one is by adding a lead manually. Exhibitors and sponsors can even search for different leads by adding their names to the search bar. 
Exchange Virtual Business Cards
Exhibitors can scan the mobile business cards of attendees in the Whova lead capture app at in-person trade shows. The business cards can also be exchanged virtually and the data can later be used to contact the leads. 
Export Leads to CRM
All the lead data collected at virtual or in-person booths can be exported to CRMs directly. Whova allows you to connect with different CRMs through Zapier as long as it supports certain integrations. 
Get Lead Insights
The Whova trade show lead capture app allows exhibitors to explore SmartProfiles of the captured leads and follow up accordingly. They can also identify leads, schedule meetings with them, and connect via audio/video chat within the app. 
Pros and Cons
Pros
"It allowed me to do lead generation, save leads, and create my own meetup/event within an event."
"Solves getting the name and email address of the lead quickly."
Cons
"When updating the lead information on the desktop, the view screen is not the same as the edit screen. to import the phone number, I had to copy it from the edit screen because it was not available from the view screen"
"For some events, lead generation is limited if you are an exhibitor or sponsor at a conference that is listed on the Whova site. In other words, you can't access delegate information so it limits targeting to some degree and you don't get any results at all for an event if it is not uploaded to Whova."
4. 6Connex
The 6Connex badge scanning app, called Eventory Scanner, allows exhibitors to capture leads at trade shows. All the data collected by scanning user QR codes is encrypted and GDPR compliant. However, users have faced usability issues while using the app. Here are the top features of the trade show lead capture app by 6Connex for a deep analysis of the app: 
Collect and Distribute Lead Information
Exhibitors and sponsors can scan trade show leads in real time and collect their information for future connections. This information can be shared with other stakeholders and team members to analyze and follow up with. 
Readily Available Lead Data
All the collected lead information is readily available in the 6Connex badge scanning app for use during and after the trade shows. 
CRM Integrations 
The 6Connex trade show lead capture app allows data export to CRM platforms including Eloqua, Salesforce.com, and Marketo. 
Pros and Cons
Pros
"6connex comes in lead follow up and statistics retrieved from the meetings are very important for our business."
Cons
"Terrible usability. menus and content of the screen, no scroll bar. They really need to rethink this."
5. iCapture 
The iCapture platform allows exhibitors and sponsors to capture trade show leads by scanning attendee badges at the time of the event. Exhibitors can use a star system to rate leads and categorize them for future use. They can also take notes for context. However, G2 users believe that the app uses outdated terminologies and doesn't differentiate between a lead and total engagements. 
Capture Lead Data
Their badge scanning technology can integrate details including emails, interests, buying habits, signatures, phone numbers, and addresses. It can scan QR codes, 2D barcodes, and RID to gather information on each attendee. 
Human Transcribed and Verified Data
Most trade show lead capture apps use optical character recognition (OCR) technology to pull text from a business card. However, the iCapture app sends the image of the business card to a human to transcribe the data from the card and verify it. All the lead data from the app is entered into a spreadsheet that you can access on their site. 
Sync Data with CRM
The iCapture trade show lead capture app is integrated with CRMs such as Salesforce, Pradot, Hubspot, etc. All the lead data will automatically sync with any CRM that you are using.
Pros and Cons 
Pros
"The system is completely integrated with our MAP and our CRM, and the mapping was made easy with our Account Executive. I can see who has and has not downloaded the application, making it super easy to send out reminders to those specific people."
Cons
"It would be nice to be able to update some of the terminology in the platform to work for our organization. For example, every scan is referred to as a "lead" when really our view of it is the total shown is total engagements."
User in Hospital and Healthcare 
6. Webex Events (formerly Socio)
Webex Events, formerly known as Socio, is designed to provide actionable lead data to exhibitors for their tradeshow lead capture process. Exhibitors can scan QR codes at their booths and collect information about all the attendees visiting. However, users have noticed a number of bugs and mentioned that the features do not work as described. 
Rate Leads and Add Notes 
With Webex's lead retrieval app, exhibitors can qualify and rate leads within the trade show lead capture app. They can add personalized notes, enhancing lead context and paving the way for meaningful follow-up interactions. They can rate the leads on a 5-star-based system to prioritize the important ones. 
CRM Reporting
The app provides a dashboard that displays key metrics to analyze the performance and make changes. 
Exhibitor Self-Service 
Exhibitors can directly purchase licenses for their booth team and download the trade show lead capture app. The self-service approach eliminates the third party and helps exhibitors capture leads directly.
Pros and Cons 
Pros
"I like the lead retrieval capabilities of Webex events which are invaluable in getting contacts and leads. This tool has reliable data insights that are quite useful in assessing various aspects of events for informed decision making."
"Webex benefits me by saving me time and giving a solution that does not take much work to implement while also looking professional."
Cons
"Quite a lot of user experience bugs, features not working as described."
"The screen can be busy to look at and if you have a small conference, then it doesn't seem worth the money."
User in Non-Profit Organization Management 
7. Bizzabo 
Bizzabo offers a Lead Booster app designed to improve the way exhibitors capture, qualify, and leverage leads. However, some customers found technical difficulties in the Bizzabo app. Here are the features that this trade show lead capture app offers: 
Scanning QR Codes
The app allows exhibitors to scan QR codes from event attendee badges. With a swift scan, the lead data is collected within the trade show lead capture app. They can edit or update the data collected using badge scanning to correct any errors or add missing data. 
Qualify Leads
Exhibitors can capture leads with a quick scan to record potential connections. The app allows them to qualify leads in real time. They can use default qualification questions or create their own to prioritize leads based on their unique criteria.
Built-in Lead Counter
Exhibitors can instantly see how many leads they have collected and gain real-time insights into their lead acquisition progress. They can search for a lead and edit the data and notes within the trade show lead capture app. 
Lead Reports
Bizzabo's Lead Booster app equips exhibitors with lead reports that offer insights into lead acquisition and qualification. Exhibitors can access their full leads collected list directly from the app, review lead data, and edit lead notes as needed. Additionally, the trade show lead capture app allows for the instant export of the entire lead list in CSV format. 
Pros and Cons
Pros
"Very useful lead generation platform where we collect registrants' data – we've even made a sale from a user who viewed one of our webinars."
"Having an interactive platform allowed us to generate valuable leads and to start the lead lifecycle with a great experience."
Cons
"Not suitable for our requirements. We encountered technical difficulties and the features were not what we needed."
"No customization, it's a Saas platform, and you need to adapt your flow. No way to manage EU electronic invoicing in an easy way."
Choose the Right Trade Show Lead Capture App
Each trade show lead capture app we've explored offers a similar set of features however, the end user experience noted by users is very different. Do your research to understand if the app truly delivers the capabilities it promises. Besides the available features, responsiveness and adaptability of the app are extremely essential.
Opt for an app that is easy to use, scalable, and offers customization. Ideally, you want to choose an app that offers you and your exhibitors the flexibility to use it as individuals or across the entire team. Take the time to assess your specific needs and feature priorities. 
Here is a quick demo for vFairs.