Event professionals know the importance of sponsorship of conferences, trade shows, expos, and other virtual, hybrid, and in-person events. Different event sponsorship packages allow the organizers to show the branding of sponsor companies to the audience and in exchange get financial benefits. These benefits can be in the form of direct payment, exclusive access to their products and services, or preferred rates. 
How to Design Event Sponsorship Packages
You can only convince a brand to sponsor your event with a strong sponsorship package with convincing features that align with their goals. Make sure that you highlight how you can help the brand gain exposure and eventually increase ROI. Provide them with a range of prices with different benefits to present a flexible solution for each of them. 
Here is how you can design some convincing event sponsorship packages: 
Choose a Sponsorship Model 
There are two models you can approach to create a well-thought-out sponsorship package. 
1. The Tiered Sponsorship Model
This model follows the traditional approach of creating levels and tiers of event sponsorship packages. Usually, there are three categories such as gold, silver, and bronze. Each tier has different pricing and benefits. Such a method offers flexibility to the sponsors to choose a package that fits right to their budget and requirements. 
2. The À La Carte Sponsorship Model 
Also known as the objective-based sponsorship model, this type of sponsorship is specific to benefits or goals. Sponsors are able to select the sponsorship line items they want in order to build their own package that suits their goals. This gives sponsors more room for customization and fluidity. 
Brainstorm Your Sponsor's Goals 
Once you have chosen the event sponsorship model you are going for, it's time to understand the goals of your potential and existing sponsors. Your event sponsorship package is actually a pitch on why they should go for your event over others. So, make sure to align with their objectives.
Common Sponsor Goals
Here are some common goals sponsors have that you must consider while designing your event sponsorship packages:
Market a new product or service and increase awareness around it

Retarget existing audience to increase brand awareness

Reach out to the new audience 

Develop networks with a relevant community 

Remarket a stagnant brand 
Virtual events and technology-based in-person events tend to generate many such opportunities. It's on the event planners to design an attractive package that attracts more sponsors. 
Assign Benefits to Each Sponsorship Package 
Be clear about what each sponsorship tier offers in terms of benefits. You can equip the highest-tiered package with exclusive features to make it more appealing for sponsors. 
You don't want a dispute with your sponsors over an added benefit so make sure to spell it out to avoid any ambiguity. 
Add Value to Your Package 
You can increase the value of your event sponsorship packages to your sponsors with creativity. You can offer custom gifts such as branded swag bags, pens, t-shirts, and whatnot.
Extend the event sponsorship packages beyond the event to your social media platforms and website. Think out of the box and go for an interesting social media campaign to increase their brand awareness. 
A slot to speak at an event provides a sponsor to extend their brand message to the vast audience at the event. It can be an attractive addition to the marketing strategies of B2B companies. We have a detailed list of event sponsorship opportunities mentioned below that apply to virtual, in-person, and hybrid events as well. 
Event Sponsorship Packages and Opportunities
You can attract more event sponsors and increase transactions by offering different tiers of event sponsorship packages. The sponsor brands are promoted during pre-event marketing campaigns and key placements during the event. 
Popular placement areas for event sponsorship packages during the event are the virtual event platform locations such as exhibit halls and virtual lobby, their marketing materials, and the mobile event app. 
Let's have a look at each in detail.
Onsite and Online Sponsorship Opportunities
As mobile apps become more common at events, sponsors have a great opportunity to get more eyeballs on their ads. Here are all 15 sponsorship placement ideas you can pitch to sponsors with the vFairs event mobile app:
1. Mobile App Splash Ads and Banner Ads
The vFairs event mobile application offers exclusive features of splash ads and banner ads for sponsorships. 
Splash ads are custom graphics that are displayed right after the app is launched. The sponsors can purchase these pop-up ads in high-tier event sponsorship packages as they are visible even before the home screen of the app.  
Banner ads are embedded at the bottom of the mobile app and continually roll as people navigate through. These static ad placements contribute a great deal to the event sponsorship packages. 
2. Mobile App White Labeling
Organizers can put up the branding of their sponsors by white labeling the mobile app. They can fit their logos and colors to create an immersive branding experience within the event. Sponsors can white-label different aspects of the event mobile app as per the event sponsorship packages and budget. 
3. Branded Badges and Lanyards
The badges and lanyards that attendees have to wear to the event can also be branded with the colors and logos of your sponsors. This can be a visible placement for the sponsor branding at the physical event. 
4. Sponsored Welcome Video
You can create a welcome video that pops up every time attendees log in to the virtual event or mobile app. This prime ad placement can be offered to your sponsors for maximum visibility, as it guarantees all attendees will have exposure to the content.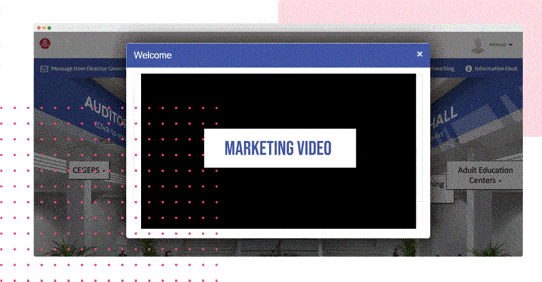 5. Sponsored Virtual Exhibit Booths
Your event partners or sponsors can purchase a virtual booth within the event but they can also get entire exhibit halls for better branding. You can offer sponsors a dedicated exhibit hall named after their organization. The logos, banners, and branding within the halls will all be dedicated to the event partner. 
6. Feature in our Sponsor Hub
The vFairs mobile event app offers a sponsor page with logos and profile links. These profiles can contain information about the sponsor including their name and a description. You also have the option to link their profile to their exhibit booth if the attendees want to explore more.
7. Mobile App Home Screen Tiles
You can offer your sponsors a dedicated tile on your mobile app home screen. The sponsors can place logos and branding material on the tile and link it to their exhibit hall, chat room, or an external link to their website. 
8. Featured Resources
The event sponsorship packages within the vFairs mobile event app also offer featured content. Your sponsors and exhibitors can purchase these spots to feature their content within the resource section for increased engagement. 
The featured content is more prominent than other resources so it is a chance for sponsors to get more visibility. 
9. Multimedia Logo on Event's Homepage
You can place a GIF in the event logo space on the Start page of your app. Different logos of sponsors and exhibitors can be used within the GIF to offer them better visibility. Such logo placement on the event home page in a prime location with event sponsorship packages offers improved brand awareness. 
10. Sponsored In-event Notifications
The vFairs mobile event app offers in-app announcements and sponsors can use this opportunity to make their brand more visible. These notifications can be in audio, video, or text format and can offer a call to action to the attendees. 
Anyone who is not logged in will get a push notification for these announcements. A pop-up notification will appear for all of those who are logged into the mobile event app. The time for these ads can be scheduled so that sponsors can choose a busy time for maximum engagement. 
11. Sponsored Webinars
Sponsors can purchase fully-branded webinar sessions, participate in a virtual panel, or host sponsored breakout sessions within the event. Higher-tier event sponsorship packages could also offer a more prominent placement on the virtual schedule so that the attendees are aware of the session, thus potentially increasing traffic to the webinar. 
Within the webinar, sponsors use their branding like place logos, use brand-colored backgrounds, and stickers. These are applicable for both live and pre-recorded webinar sessions. The app also offers sponsor sections in the Q&A box. You can frame where the sponsor video is embedded. 
The pre-webinar sponsor screen can also be used for ad and logo placements while people wait for the presentation and during breaks. 
12. Sponsored Surveys and Polls 
Sponsors can purchase custom surveys or polls embedded within the sessions shared during the event. The sponsored surveys and polls can help them get better brand visibility and gain valuable feedback from attendees about specific topics related to your event. 
13. Sponsored Gamification
Hosts can engage onsite attendees in a fun game of scavenger hunt. The attendees can scan QR codes spread across the venue using the vFairs event mobile app. Sponsors can embed their logos within the scavenger hunt to boost brand visibility.
They can also purchase activities on the leaderboards leading attendees to visit their booth. They can also purchase space on Spin the Wheel or sponsor a prize for game winners for brand awareness. 
14. Social Media Integrations
You can offer your sponsors a prominent place on your interactive social media walls through our Twitter or walls.io integrations. These event sponsorship packages help them get prominent placement in a highly engaging and visible space. 
15. Photobooth Branding
Within the photobooths, sponsors can purchase custom stickers and backgrounds with their brand logos and colors. Attendees who take photos can save and post them on their social media. This way sponsors can get visibility beyond just the virtual event and also to all attendee's networks.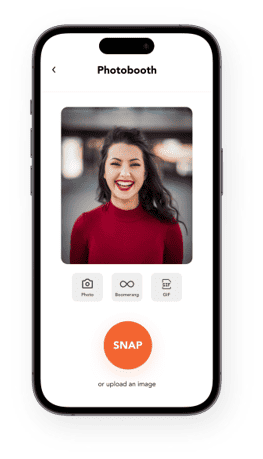 16. Poster Hall Placement
The scrollable poster halls offer a few spots to sponsors to get visibility to everyone who enters the hall. Sponsors can purchase a prominent spot within the poster hall to place their brochures, 1-pagers, white papers, or any other collateral that they want to share with the attendees. 
Virtual Event Platform Sponsorship Opportunities 
You can monetize your events by offering brand awareness and ad placements to different sponsors within the event. There are different event sponsorship packages for exhibit halls and virtual venues for your sponsors. 
Exhibit Halls Sponsorship 
Your sponsors can purchase exhibit halls to conduct conversations and transactions with interested parties. They can get customizable virtual booths to interact with the audience and use other priority placements for their brand awareness. 
The entire virtual exhibit hall can be designed around a sponsor's branding and logo depending upon the event sponsorship packages they purchase. Even the colors and background can be set as per their branding to help increase visibility to all the exhibit hall traffic. 
Sponsors can purchase prominent placements for their booths within the exhibit hall to increase traffic during the live event. Organizers can also offer virtual ad placements and signage within the exhibit hall to draw attention to specific booths. There are several customizable design options for virtual booths. High-end event sponsorship packages can also include exclusive booth designs. 
Exhibitors get full control of the content they upload into their booths. They can upload customized imagery for the branding of their booths. PDFs, books, and other downloadable documents can also be added to their booths that the sponsors can link to their external websites. 
There are solution-specific features in the event sponsorship packages as well. They can be job postings or product sheets where attendees can apply for jobs or place an order. You can also give your sponsors exclusive access to reports for lead generation and be able to track their performance by analyzing their visitors and sales. 
Virtual Venue Sponsorship
The virtual venue offers several sponsorship opportunities. Logo placement in the virtual lobby will provide brand awareness to all the traffic entering the venue. You can offer bigger ad spaces at prime locations in high-tier event sponsorship packages. 
Sponsors can also show their logos and custom graphics in the virtual auditorium which gets a lot of traffic from attendees navigating through the virtual seminar. They can also purchase complete branded webinars, surveys, and polls to increase brand visibility and engagement with the attendees. Organizers can also offer logo placement within event gamification including virtual scavenger hunts, spin the wheel, and leaderboards. 
Exhibitors can issue personalized certificates with branding to the audience who accomplishes certain tasks such as attending the webinar or completing a survey. They can create custom-branded social walls within the event and increase their reach by using the event-specific hashtag. All the attendees can see any post on the wall with that particular hashtag. 
Sponsors can purchase in-event push notifications and virtual spaces for their marketing videos. They can create custom photobooth stickers and backgrounds for branding. Attendees will share the images with their networks and increase their brand visibility. They can also purchase visible spots on the scrollable poster halls for their brochures and other branding materials. 
Sponsored Social Promo Posts  
The pre-event marketing materials can also be monetized by using spaces for sponsored logo placements. 
1. Logo Placement on the Landing Page
The landing pages of your event will get the most traffic. Even those who don't register for the event are likely to see sponsor logos as they are researching. You can offer different-tier event sponsorship packages for logo prominence. 
2. Logo Placement in Email Marketing
For pre-event and post-event email marketing, sponsors can purchase a space for their logos. Invitation emails, registration emails and thank you emails will contain the logos of your sponsors. 
3. Logo Placement in vFairs Discover
Sponsors can purchase a space on the vFairs Discover page to reach an even wider audience as compared to the event landing page. Logo placement on this page will have increased event sponsorship visibility for a new audience. 
Conclusion
Sponsorships are an essential part of an event and can be used in different ways to monetize the event. Organizers can offer space for ads and logos to sponsors throughout the virtual event platform, mobile event app, and their marketing materials as well. You can create three-tier event sponsorship packages so that all sponsors can choose one that fits their budget. Want to be all set to planning your next event? Read our event planning guide.
Check out this podcast sharing insights on virtual event sponsorships.