Career fairs have changed with time and this digital era offers a bunch of options for event planners. Be it virtual, in-person, or hybrid career fairs, all of them have their own pros and cons. There are a few factors to consider when planning an event and budgeting is an important one. In this blog, we are going to give you a breakdown of the event budget for in-person and virtual career fairs respectively. 
Virtual Career Fair Event Budget
The cost of a virtual career fair can vary based on the extent of features, duration, exhibitor participation, and customizations required to match the organizer's needs.  
Per Event Pricing
On average, institutions hosting virtual career fairs can expect prices for the platform to start around USD $14,925 for the virtual event platform license to conduct one event. The standard solution set covers the following technology, support, and services:
Dedicated event manager from start to finish for hands-on assistance and expert advisory

Customized event landing page and registration form

Standard 3D lobby, exhibition hall, auditorium, and lounge designs 

15 unique branded virtual booths for exhibitors

Technical support for seamless event operations (e.g. prerecording webinars, design customizations, content uploading, etc.)

Live technical support during the event 

Chat tools

15

Webinars

/ live sessions 

Post-event analytics and custom event reports 
Annual Plans 
There are three tiers of annual pricing plans which makes it easier for clients having different event budgets to host an event as per their needs, namely:
Basic Annual License 

Premium Annual License 

Enterprise Annual License 
You can include different add-ons into your package and get custom pricing to host your virtual career fair.
Organizers must keep their event budget slightly flexible as the cost of a virtual career fair would vary based on the length, number of users, features in use, customizations, and optional marketing services that some vendors might offer.
The primary event framework for hosts to look forward to is a power-packed bundle of functionalities and personalized digital assets that can ensure the virtual career fair does not go unnoticed. Further enhancements can always be incorporated at an additional price, such as resume search filters and other advanced recruitment technology.
To get a detailed overview of the event cost analysis of virtual career fairs, check out our pricing page. 
Physical Career Fair Event Budget
As compared to virtual career fair pricing, physical events have some additional event costs to be covered. To determine the event cost analysis for a physical career fair, let's look at some of the key costs involved and their pricing quotes from vendors.
1. Venue Rental
Undisputedly you need to dedicate the largest chunk of the event budget to the venue. Your event planner will have to research locations, negotiate rates, and confirm the availability of space for the day(s) you would like to host your career fair.
Even for a mid-sized local recruitment event with an anticipated audience of 300, when venue pricing is calculated based on the industry average of  $0.14 per gross square foot per day, the rental cost incurred will be $8,400 for a 60,000 sq ft hall for one day. 
2. Car Parking
Arranging a parking lot to prioritize guest convenience is critical. Rental rates can range anywhere between $1,000 to $1,500 based on medium-to-large capacities.
3. Event Marketing
To get all eyes and ears focused on your upcoming event, branding and running a marketing campaign are critical. Design, PR, strategy, and reporting services from an established agency can add about $5,500/month to the in-person event budget.
4. Audio and Visual Equipment Rental 
Stage setup, equipment for keynote speeches, professional quality lighting rigs, projectors, audio/video equipment, and technical assistance all come at a price. From assembling to delivery, on-site technical assistance and AV equipment rental rates for an 8-hour career fair will be an estimated $1,000 at the bare minimum.
5. On-Site Technology
Here are some event costs for on-site technology you need to add in your in-person event budget: 
For online registration and ticketing of your online event, you will need a custom landing age, registration form, pre-event email marketing, and attendee management which costs around $4,950 per event. 

The payment pages and payment integration for PayPal and Stripe cost almost $2,950 per event. 

Then comes the check-in gear that includes a badge printing app ($1,950), a tablet with a stand ($200), and a laptop ($240). 

For

badge printing

, you will need a high-speed printer ($350), a WiFi router ($300), an ethernet switch ($60), and a 4G data package ($125). The badges and lanyards cost around $5 each and for a 300-attendee event that costs around $1500. 

An all-in-one

event mobile app

costs $8,925 for 3 live day events. 
Without any add-ons, onsite technology adds up to around $21,550 to the event budget.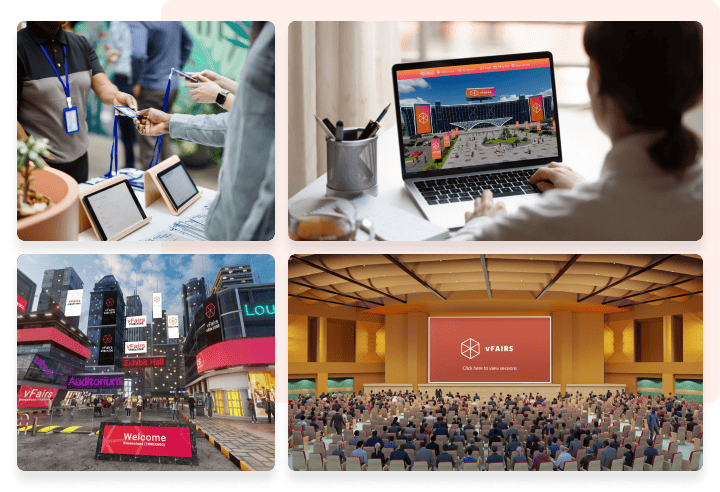 5. Insurance
It's always better to be overprepared than under when it comes to event budget. To avoid unwanted stress, hosts can get insurance for a medium-sized career fair at a starting price tag of about $150.
6. Hospitality
Keeping recruiters and staff energized during the event visibly improves the job seeker experience. Arranging on-site corporate catering even for a conservative group of 60 members (breakfast, afternoon snack, and lunch included) can run the organizer a hefty bill of up to $70 per person which is $4,200 in total.
7. Staffing
The standard rule of staffing is providing at least 1 assistant for every 12 guests. To spearhead the smooth running of operations for an 8-hour event with an audience of 300, you will require at least a team of 25. Rates estimated on ThumbTack start at $20, leading to a hike in expenses of $4,000.
8. Event Planner and Manager
Event planners can charge on an hourly basis, or a flat fee based on the scale of the event. To bring an experienced event manager on board, you will have to dedicate an estimated 15%-20% of the total event budget to this role. The total funds required for the event based on the above-mentioned estimates is around $24,100. So an extra 15% of $24,100 = $3,615.
Event Cost Analysis Summary of a Physical Career Fair
Venue Rental: $8,400; 
Parking: $1,000; 
Marketing: $5,500; 
Technology Assets/Audio and Visual Equipment Rental: $1,000;
On-Site Technology: $21,550;
Insurance: $150; 
Hospitality: $4,200; 
Staffing: $4,000; 
Event Planner and Manager: $3,615
The total event budget for a physical career fair goes up to $49,275.  
Conclusion
Arranging a physical or a virtual career fair comes with its pros and cons. It depends upon you and your business to choose the one that fulfills the requirements. Your event budget is one such important factor that determines which medium you should go for. 
The expenses of a recruitment event vary depending upon the extent of branding, marketing collateral, giveaways, and staff travel arrangements. But, the effort and time that goes into event management is uncanny. 
Hiring an event management platform can make your virtual and physical events an experience to remember. Providing global outreach and physical as well as virtual networking options, the right platform to arrange career fairs boosts the responses and helps you track the performance. The best part of using such platforms is lead generation because now you have control over the data of attendees and exhibitors.